XPERANTI: WORKFORCE MONITORING FOR SAFETY & SECURITY
Operational visibility and efficiency are keys to ensuring everything runs according to plan across industries. An IoT solution for workforce in place, adds significant value to business that not only boosts productivity but enhance safety & security for the labour force.
Xperanti's IoT solutions based on Sigfox technology helps to support organizations for a more visible & connected work environment, with remote monitoring capabilities that optimise operational efficiency, as well to increase reliability, and safety for a more protected workforce.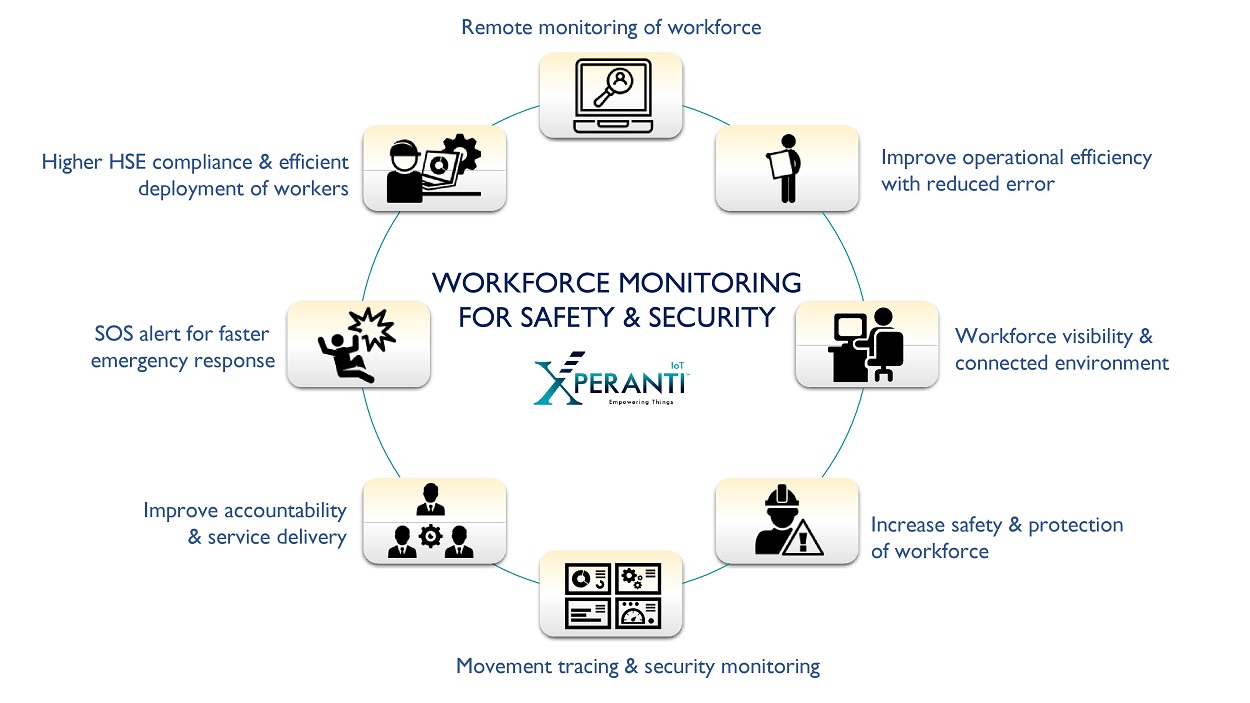 WORKFORCE VISIBILITY – Remote monitoring of the mobile workforce not only significantly improves industrial worker safety, but the insights from data gathered can help organizations to make informed business decisions and ensure efficient deployment of workers.
WORKFORCE PROTECTION – Safety & security is a major concern at high-risk industrial workplaces like construction, agriculture, factories, oil & gas etc. to achieve higher HSE compliance. With Xperanti's industrial IoT solution – workers can also easily trigger a panic button alert, which sends an SOS message along with current GPS location for faster emergency response.
WORKFORCE OPTIMIZATION – When crews, managers and executives are connected to the same, real-time data and insights, they can identify crowded areas, measure crowd density, scan all visitors for threats and trespassing, efficiently monitor all entrances and exits, as well as ensure all workers are deployed effectively.
SMARTER WORKFORCE: Empowering Industries with (Remote & Mobile) Workforce
The challenge to monitor crowd footprint is especially prevalent in industries that involve the management and coordination of a large workforce such as the construction sector. Traffic monitoring, footfall tracking, intrusion detection and perimeter security capabilities in large construction sites with hundreds of diverse workers and crews, can be a daunting task for any supervisor / manager.
Xperanti's IoT solution based on SIGFOX technology empowers industries to track and trace worker activity, location, safety and compliance in real-time – improving both manpower coordination and workforce efficiency.
XPERANTI: WORKFORCE MONITORING FOR SAFETY & SECURITY