SINGULARITY AEROTECH ASIA AND XPERANTI IOT TO BOOST LOCAL FARMING INDUSTRY VIA MAKE AGRICULTURE SEXY (MAS) ECOSYSTEM INITIATIVE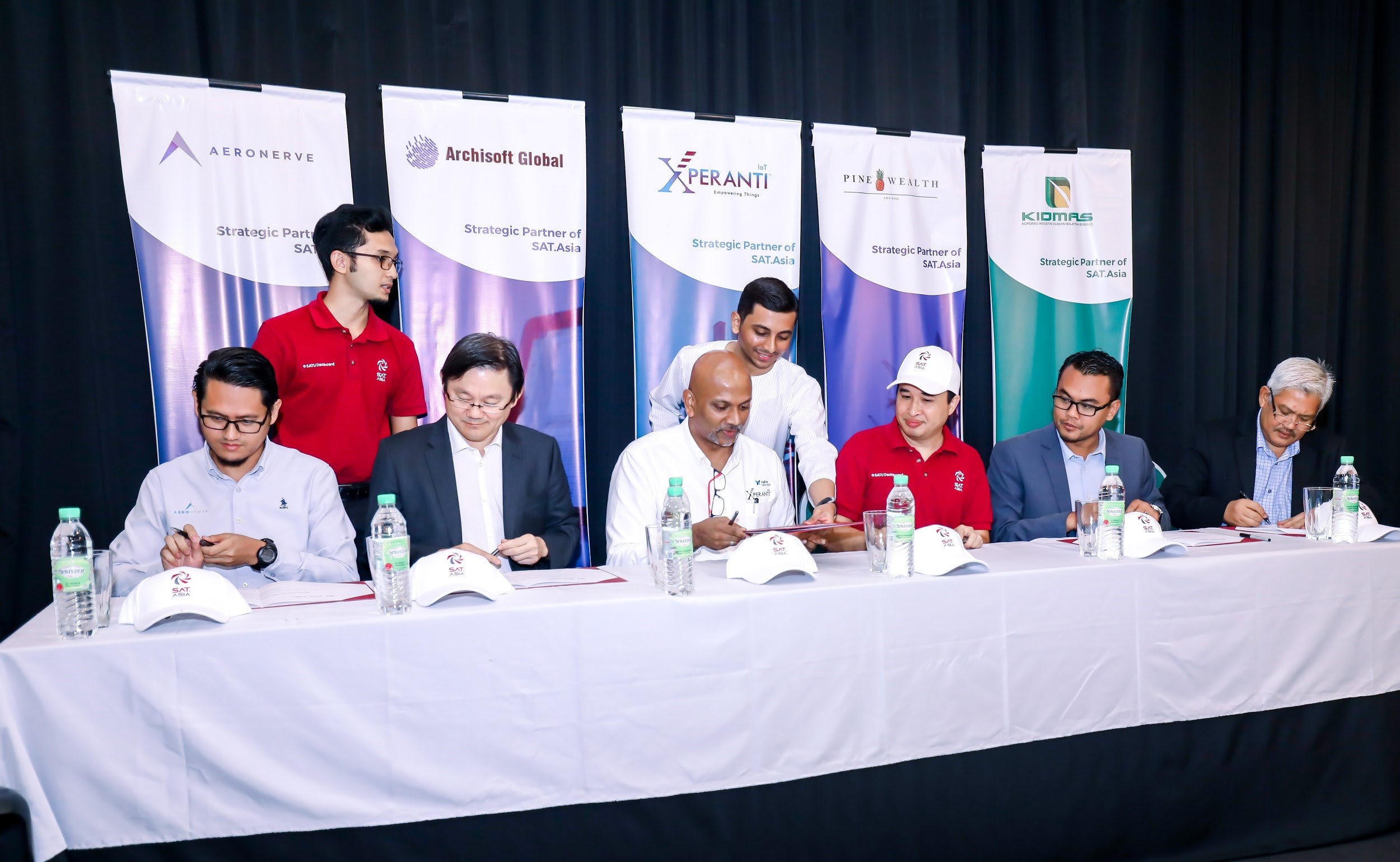 At the recent announcement of the strategic partnership & collaboration, between SAT.ASIA, Xperanti, Aeronerve, Archisoft Global, Pinewealth and Koperasi Industri Durian Malaysia Berhad (Malaysian Durian Industry Cooperative), to implement Smart Tani solution in the Malaysian agriculture industry.
Left to right: Muslim Abdullah Zaik from Aeronerve, Michael Cheah from Archisoft Global, Vicks Kanagasingam from Xperanti IoT | Sigfox Operator, Hafeiz Hassan from SAT.Asia, Noor Izwadi Mohd Noor from Pinewealth and Abdul Latif Mohd Nasir from Koperasi Industri Durian Malaysia Berhad (Malaysian Durian Industry Cooperative).
KUALA LUMPUR, 6 January 2020 – Singularity Aerotech Asia (SAT.ASIA), a premier technology services provider focused on Internet of Things (IoT) and Big Data solutions,  announced their collaboration with Xperanti IoT, Malaysia's first nationwide licensed IoT network provider, to leverage the capabilities of Sigfox 0G technology for the implementation of IoT solutions in agriculture. Xperanti is SAT.ASIA's key strategic partner for the implementation of IoT in agriculture, through the Make Agriculture Sexy (MAS) Ecosystem initiative which aims to unify the digital divide within the agriculture industry.
The SmartTani system, powered by Sigfox 0G technology, was one of the initial pilot projects implemented in a pineapple farm through the collaboration between Xperanti, SAT.ASIA and Pinewealth, supported by Lembaga Perindustrian Nanas Malaysia. Within one crop cycle, the implementation of Smart Tani resulted in ROI of almost 50% reduction in produce reject, cost savings in terms of manpower and fertilizers, and close to 15% revenue improvement.
"SmartTani focuses on obtaining critical control data points like soil information, meteorological data and geospatial data using affordable technology throughout the crop cycle. The data gathered are collated, enriched, arranged and visualised in our unified platform – the SATU Dashboard – which provides intuitive data visualization and analytics for different devices under one dashboard. This allows seamless data overlays to achieve better insights, higher data credibility and better analytics – all in a simple and affordable subscription-based model" said SAT.ASIA's Chief Executive Officer, Hafeiz Hassan."
"The MAS framework was created to encourage opportunities for individuals and groups to make a positive impact by developing their own micro-projects. It was designed holistically – based on People, Process and Technology. By starting small and simple, we can help guide  small & medium farmers (micro-agriculture sectors) to embrace technology based on the MAS framework, thus ensuring that no one is left behind in the nation's digital transformation," said Xperanti's Chief Executive Officer, Vicks Kanagasingam.
"Xperanti has always championed the growth of local players in the country. With our ecosystem of partners, we help SMEs and local entrepreneurs to adopt practical, scalable and sustainable IoT solutions, with the aim to fast-track the adoption of Industry 4.0 in the country," he added.
Xperanti is the exclusive Sigfox operator in Malaysia. Sigfox is the initiator of the 0G network and the world's leading IoT service provider with global coverage in over 65 countries. The Kuala Lumpur-based company began laying the groundwork for IoT deployment last year and has already achieved 85 percent coverage by population in Malaysia, including Sabah and Sarawak. Xperanti will continue to densify the network to achieve > 95% coverage by 2020 to support the adoption of Industry 4.0 in Malaysia.
Sigfox's unique approach for device-to-cloud communications addresses the three greatest barriers to Industrial IoT adoption: cost, energy consumption, and scalability.
The strategic synergy from SAT.ASIA and Xperanti's partnership will see them both continuously pushing the boundaries of IoT and innovation for the benefit of enterprises, government agencies and communities in Malaysia, as well as unifying the digital divide through industrial as well as community driven IoT-based solutions.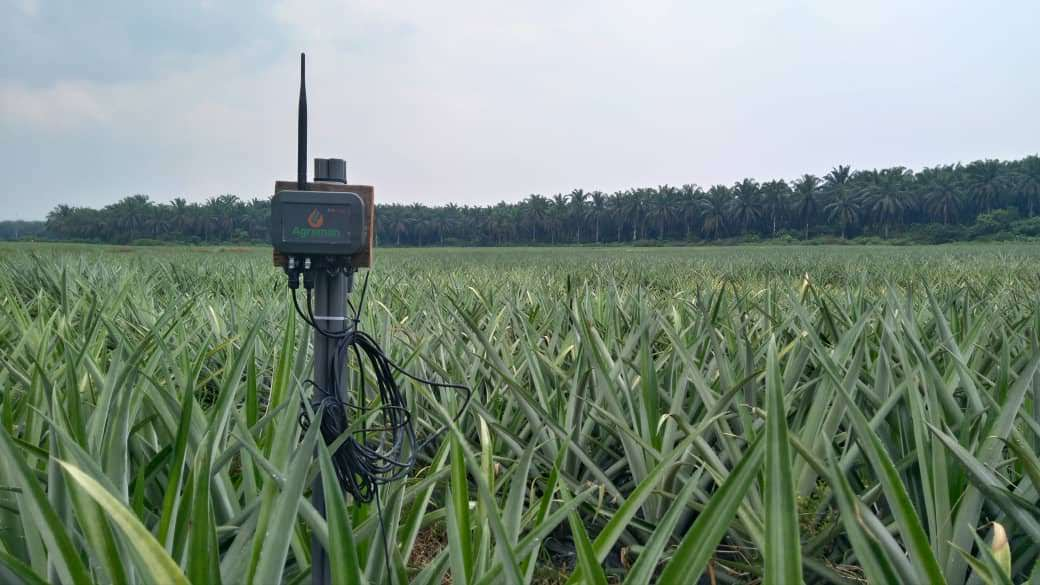 Xperanti and SAT.Asia personnel in the field. (At a Pineapple Farm)
– ENDS –
About SAT.ASIA: Singularity Aerotech Asia Sdn Bhd (SAT.ASIA) is a company that specialises in engineering, IoT and Big Data solutions. SAT.ASIA offers tailor-made IoT and Big Data solutions throughout various industries in the region, pushing forward the implementation of Industry Revolution 4.0. Working with our strategic partner, Xperanti, SAT.ASIA offers 0G end-to-end IoT solution through a Low-Powered Wide Area Network (LPWAN) provider, Sigfox which enables wireless transfer of data across multiple regions. 0G IoT network transmits smaller data suitable for sensors, which means smaller and simpler devices are enough to get devices connected seamlessly.
Website: singularityaerotech.asia
Media contact: afif@singularityaerotech.asia
About Xperanti: Xperanti IoT (M) Sdn Bhd is Malaysia's first nationwide IoT network provider, offering Industrial IoT solutions through exclusive access to Sigfox's global leading technology. We offer comprehensive end-to-end IoT solutions via an ecosystem of partners, that unlock the huge emerging opportunity of Industry 4.0 for businesses. Our exceptional technology delivers practical and scalable solutions for key sectors such as manufacturing, transportation and logistics, utilities, agriculture and smart city applications. We also help businesses "bridge the digital divide" and enable local enterprises to develop purpose-built IoT solutions focused on reliable, secure, low-cost network solutions designed for this emerging connected ecosystem.
Website: www.xperanti.com
Media contact: shobana@xperanti.com