AHEAD OF THE CURVE – Ramachandran Muniandy, Co-founder & CTO of Asia Mobiliti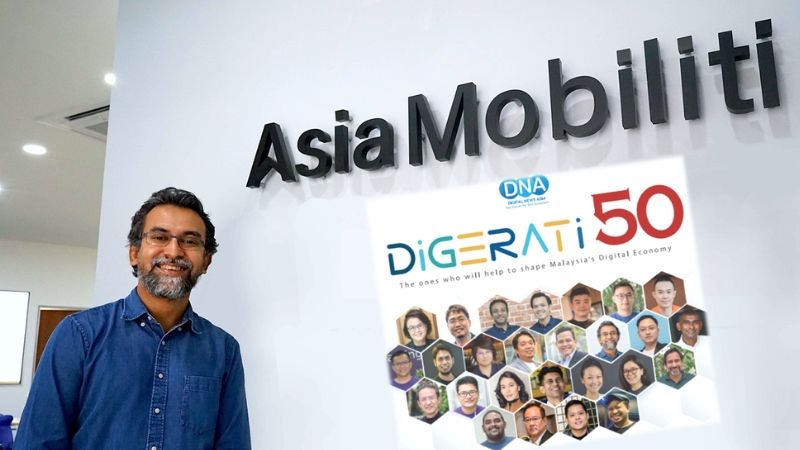 Former pastor Ramachandran Muniandy finds his calling in solving Malaysia's transport woes
Digital News Asia recently published their Digerati50 2020/2021 list which recognises "The Ones Who Will Help Shape Malaysia's Digital Economy" celebrating the bold, the brave and the inspiring for their hard-earned success to leverage the technologies for a better future. Xperanti is mighty proud of our partner, the co-founder & CTO Ramachandran Muniandy chosen as a Digerati50.
Advocating the growth of local players in the industry, Xperanti always champions Malaysian start-ups and SMEs to embrace practical, scalable and sustainable Industrial IoT solutions in order to compete with larger companies, as well as support the adoption of Industry 4.0.
THE Malaysian elections of 2018 were momentous for many reasons, but significantly for Ramanchandran Muniady, it also marked a turning point of a different kind.
"We connected after the big nation-defining general election of May 2018 with new ideas," recalled Ramachandran. The "we" in this case being the highly respected Premesh Chandran, founder and CEO of Southeast Asia's leading subscription based online newspaper, Malaysiakini – who also happens to be a longtime neighbour. "Prem was intrigued with what I built in a previous startup."
Ramachandran is referring to a system he developed in 2009 to map traffic, using a method similar as popular apps Waze and Google Maps. Feeling that the time was ripe for the idea to manifest, Asia Mobiliti Sdn Bhd was born with Ramachandran as its CTO.
"We are very much the quintessential cofounder pair, drawing confidence from each other that this is an idea worth pursuing."
They are building a product stack with three components: The first is called Orion, which is an IOT device installed in vehicles to collect and transmit real-time data. The second is a command system called Horizon, which gathers the data and presents it to transit operators for analysis and action. Finally, the third is an app called Trek, used by the general public to plan transit journeys, using data from multiple sources. "We are a platform, connecting the transport operators and mobility service providers with the passengers," says Ramachandran.
Being transport-mode agnostic, the goal is to on-board as many types of mobility services as available, especially public transport operators. "(They are) the spine of any urban network," he says.
The goal is to be a mobility-as-a-service platform (MaaS) platform in principle, though they did not start out with that label or definition, explains Ramachandran. "But, as we built and engineered and figured out the business model, we discovered that we are truly a MaaS platform with some unique characteristics. We then began to double-down on that space."
As a boy, Ramachandran dreamed of working on another kind of transport. "I grew up wanting to be an aerospace engineer – one part boyhood dream, one part father's plan," he says, laughing. But the 1998 Asian financial crisis put paid to that ambition, and he decided instead to study IT.
A career in tech started before he got the entrepreneurial bug and got involved in startups and small businesses – as well as the odd detour. "The immediate two years preceding my founding of Asia Mobiliti was spent serving a global Christian organization as a pastor and Bible school teacher!"
His unique experiences, Ramachandran says, "I hold very dearly as important life lessons and serve as input into my composition as an entrepreneur."
Reflecting, he muses, "An entrepreneur's first venture is himself or herself. Once that is healthy, then we scale to leading others in the team.
Not surprisingly, the toughest part has been in securing strategic funding partners and in managing the engineering process, he admits. "(There are) complex problems with literally many moving parts, and delivering them on time with the least debt incurred is a huge challenge!"
In October 2019, Asia Mobiliti successfully completed the pilot deployment of Orion as an IoT solution on buses owned by KR Travel and Tours Sdn Bhd. Orion was installed on the entire fleet of six Long-Term Car Park (LTCP) shuttle buses at KLIA airport.
Unsurprisingly, the company's plans were interrupted in early 2020. "The Covid19 pandemic has certainly disrupted many industries and is forcing a rethink of some big areas of life, including mobility and public transportation," acknowledges Ramachandran.
"But, this is where a Mobility-as-a-Service platform comes into play, enabling such frictionless travel and allows transport operators alike to monitor and respond in real-time to shifting demands and local conditions."
As uncertain as the future is, Ramachandran is optimistic that he can handle whatever it brings forth. "I expect to continuously learn," he maintains. "In order to do that, one needs to tend to the heart and mind regularly in order to keep it fertile and ready. I see ourselves as being ahead of the curve and am very positive of an acceleration of market traction as the economy reopens."
Source: Digital News Asia: Digerati50 – 2020/2021 https://www.digitalnewsasia.com/insights/bold-brave-inspiring-meet-20202021-batch-digerati50